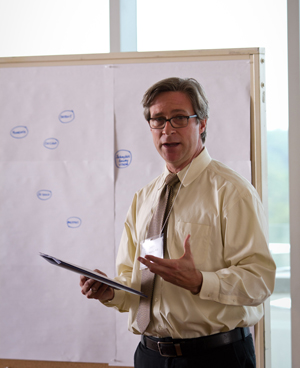 Teaching is a core component of IHP's mission.  Our faculty offer six courses in Religion and Public Health each academic year:
•  Health as Social Justice
•  Religion and Health: Transforming Communities
•  Religion and Health in Context: HIV
•  Religion and Health in Context: Sexual and Reproductive Health
•  Religion, Health, and Development
•  Understanding Religion's Role in Global Health and Development Practice
The last two courses are part of an innovative course sequence that combines classroom teaching at Emory; interdisciplinary seminars with faculty and students from St. Paul's University in Limuru, Kenya;  and eight-week student field placements in NGOs and FBOs in Kenya.  In 2013, ten Emory students in masters or doctoral programs (MPH, MDiv, MDP, PhD) have been in class with seventeen masters level students from St. Paul's in a course taught by three Emory faculty and four St. Paul's faculty.  Students are now in the their field placements.
In addition to classroom teaching, IHP sponsors or participates in wide variety of teaching both within the university and beyond:
The Religion and Health Roundtable is a monthly meeting for anyone in the university or greater Atlanta community interested in the intersection of religion and public health.  It is co-hosted by IHP and Emory's Religion and Public Health Collaborative
Emory's first massive open online course (MOOC).  Emory is partnering with a consortium of universities to offer courses through Coursera.  One of Emory first two courses offered thirteen sessions looking at HIV/AIDS.  IHP offered a session on Religion and HIV and Activism and HIV.  The course enrolled over 16,000 participants from across the world.
IHP faculty offered didactics to students in the Clinical Pastoral Education (CPE) program at Emory Healthcare and at St. Luke's Training and Counseling Center.
IHP faculty provided the lecture for the annual colloquium of the Doctor of Theology program of the Atlanta Theological Association in May 2013.
At the invitation of the Episcopal Diocese of Atlanta, IHP participated in a workshop for diocesan clergy on blessing same sex unions.
IHP faculty participated in a panel discussion on Religion and International Development with Helene Gayle, President and CEO of Care USA.  The panel was sponsored by Emory's Religion and Public Health Collaborative and the Emory Center for Ethics.  A video of the lecture can be found here.

Finally, IHP faculty advise theses for graduate students in various schools across the university.
Abstracts of IHP faculty-advised theses can be found by clicking here>>