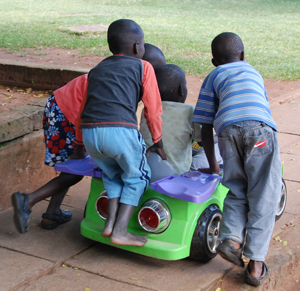 Since 2011, 16 Emory students from the Candler School of Theology, Emory College, the Rollins School of Public Health, and the Laney Graduate School have worked in eight-week field placements with a Kenyan FBO called Nyumbani.  Founded by Father Angelo D'Agostino in 1992, Nyumbani is a model program that provides comprehensive clinical and psychosocial services to children living with and/or orphaned by HIV/AIDS.
Eight students have worked in Lea Toto, a Nyumbani program that provides HIV primary care to over 3,500 HIV-positive children living in a series of informal settlements in Nairobi. Other students worked in Nyumbani Village, an innovative program that provides a permanent home and a vast array of educational, medical, and psychosocial services for over 1,000 children orphaned by HIV/AIDS and over 100 adults who lost their adult children to HIV/AIDS. The village, located near Kutui (a rural area of Kenya about 120 miles outside of Nairobi), is also a model for sustainable development in organic farming and forestry.
This year, two Emory students are working in Nyumbani Village, where senior adults serve as grandparents to the children who now call Nyumbani Village their home.  One student will work on two areas this summer: the Village's water and land management programs and a longitudinal study of height/weight measurement of children in the Village.  Kitui County is a semi-arid region with infrequent rainfall.  In this environment, the Village has developed a 400-acre organic farm and is growing a 500-acre hardwood forest.  Both of these programs are designed to generate income to make the Village self-sustaining and the farm will also supplement the residents' diet with nutritious foods.  Such an ambitious program requires smart use of land and water resources.
Another Emory student will be developing a program for adolescent young men that will draw on cultural conceptions of male identity among the Kamba (the ethnic group who call Kitui County home) to support positive health behaviors. Our student will work with Kenyan colleagues at St. Paul's University to draw on religious and cultural teachings and rituals to help equip the young men at Nyumbani Village to live healthy, successful lives as adults.