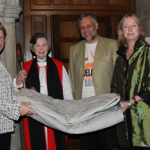 On July 18,  Sandy Thurman, IHP Director, joined The Right Rev. Jane Holmes Dixon, retired bishop of Washington, pro tempore, Ebrahim Rasool, South African ambassador to the U.S., Julie Rhoad, executive director of the NAMES Project Foundation, and The Rev. Gina Campbell, Cathedral director of worship at the blessing of a panel created by St. George's Cathedral in Cape Town, South Africa.  This panel was blessed by Archbishop Desmond Tutu on June 22 prior to being sent to the U.S. for display at Washington National Cathedral.
In 2009, the UN declared President Mandela's birthday, July 18, as the Nelson Mandela International Day of Service. Ambassador Rasool spoke to this commitment to service in his address:  "One of the sayings in our country is Ubuntu, and one of my focal areas of my service as Ambassador to the U.S. from South Africa [is] about the essence of being human. Ubuntu speaks particularly about the fact that you can't exist as a human being in isolation. It speaks about our interconnectedness. You can't be human all by yourself, and when you have this quality – Ubuntu – you are known for your generosity. We think of ourselves far too frequently as just individuals, separated from one another, whereas you are connected and what you do affects the whole world. When you do well, it spreads out; it is for the whole of humanity. As the quilt spreads across Washington, as the Interfaith Service for Hope and Commitment shows, and on this National Day of Service I thank the volunteers, the Faith leaders, and all the committed professionals who remember that their service to people living with HIV/AIDS affects the Whole World."
An interfaith memorial service took place at the National Cathedral on Saturday, July 21 where the quilt was on display and Dean Curran of the Rollins School of Public Health delivered the keynote address.