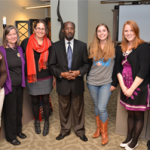 On November 6, 2012, IHP and Emory's Religion and Public Health Collaborative hosted a Community of Scholars Reception.  Student scholars and colleagues from various disciplines came to learn more about what is happening in the field of Religion and Public Health at Emory and to discover new ways to be involved in this exciting new field of inquiry and learning.
Students who have had field placements in Kenya and students enrolled in the dual-degree program (MDiv/MPH and MTS/MPH) discussed the importance of religion and public health for their future work.
Our special guest this year was Vice Chancellor Joseph Galgalo from St. Paul's University, Limuru, Kenya.
Click here to view additional photos>>