MESSAGE FROM THE INTERFAITH HEALTH PROGRAM
---
For over two decades, the Interfaith Health Program has worked in partnership with colleagues from various faith traditions in the United States and around the world. We continue to stand alongside those colleagues and to offer our active support at a time when some of them feel threatened. Various religious traditions call the faithful to practice hospitality and to welcome the stranger in need. We are grateful for such expressions of hospitality that our friends around the globe display every day and we commit ourselves to demonstrate the same.
We are saddened to see that the current U.S. leaders are creating divisions and encouraging fear and we do not support these actions.  We want to be clear that we are committed to hospitality, justice, and love and will continue to have these values guide our work.
In April 2015, PEPFAR, St. Paul's University, and IHP once again convened FBO leaders in a consultation to review the recommendations made during the May 2012 Consultation, further examine critical issues in addressing HIV/AIDS, share valuable insights from experiences in responding to HIV/AIDS, and to chart a path for future efforts.  This report includes descriptions of key issues raised in the Consultation; the scope of contributions of faith-based partners to HIV service delivery; the important role of FBOs in achieving the ambitious program goals developed by PEPFAR, UNAIDS, and other global partners; and the finalized set of key recommendations developed at the 2015 Consultation.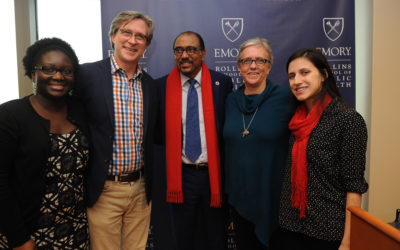 February 9, 2017 Michel Sidibé, Executive Director of UNAIDS, an IHP funder, visited Emory University in honor of the inauguration of Emory President, Claire Sterk.  He also spoke on leadership in the global AIDS response with students and faculty at a special session...
read more